Materials - C o l o r C o r r e c t i o n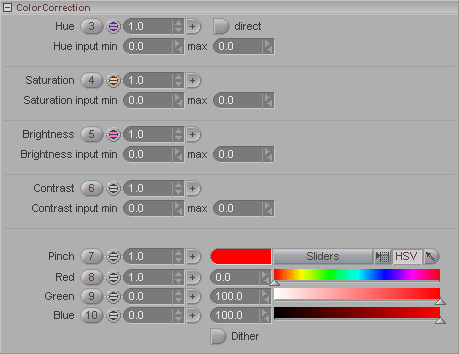 The Color Correction shader actually has a lot of uses besides what you'd expect when you think of color correction. For example, you can use it to adjust the contrast of a bump map, or to remap colors for a Noise shader.
min/max: Use these settings to remap or clamp the range for each of the settings.
Direct: When this is on, the hue change will go directly from min to max without rotating through the spectrum like it usually would.
---
The bottom portion of the block has a unique function. It lets you shift the colors to one specific color. Choose a color with the color picker, then set the Pinch level. This is what controls how much of the Pinch color to use. Important: When the Pinch level is at 1.0, it will completely override the Hue and Saturation settings. Brightness and Contrast will still work.
Dither: Dither translates the floating point data to 8bit data.
---
Sample Scene:
In the messiah_content\Scenes\Samples folder there is a scene called ColorCorrection_Shader_Sample.mpj. In that scene, the ColorCorrection shader is applied to the Ball_1 material. Try playing with some of the settings. Just keep in mind that when Pinch is at 1.0 it will override any Hue and Saturation settings.