V i e w M a n a g e r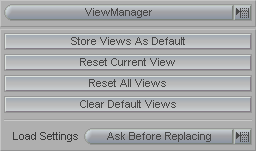 This block lets you save the view settings you are using. This includes the viewport configuration (single view, quad view, etc.)
Store Views As Default: Press this button to store the current view settings.
Reset Current View: Resets current view to what you have it saved as. So if you have changed the view, such as rotating the view in Perspective, you can press this to get it back to the default that has been set.
Reset All Views: Resets all views to what you have them saved as.
Clear Default Views: Restores messiah's real default views and removes the views that you may have set up.
Load Settings (pulldown list): When you save a scene, the views are stored as well. This pulldown list lets you decide what to do if and when a scene is loaded (with Append Current Scene) that has settings that are different from what you have currently set..
Ask Before Replacing - This will bring up a requester to let you decide what to do. This is probably the best choice, which is why it's the default I guess.

Never Replace - This will ignore the view settings of the incoming scene.

Always Replace - This will use the view settings from the scene instead of the settings you currently have.