Items - C l u s t e r C r e a t e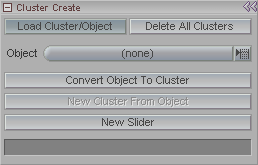 A Cluster is a section of an object, or a separate object used for an effect. Messiah will use only the point information from the cluster, not any polygonal or surface/texture information.
Load Cluster/Object: Click this to load the mesh you want to use as a cluster. The file requester that this button brings up allows you to multi-select objects if you want, so you can load them all at once.
Delete All Clusters: Guess what this does? (Yes, but it only does it for this instance. So if you have several objects with a cluster-based effect, like Puppet Master, it will only delete the clusters for the specific Puppet Master instance that is selected.)
Pulldown list: Use this to select an object for converting to a Cluster if you already have it loaded in your scene. Select an object, then press the button below.
Convert Object to Cluster: Pressing this will convert the object you have selected in the pulldown list (above) into a Cluster object.
New Slider: Creates a slider set that will be used to animate the morphs if you're using MorphBlender.
Note: If you have more than 32 morph targets, just create another Value slider. The limit per slider is 32 channels, but you can make as many sliders as you need.