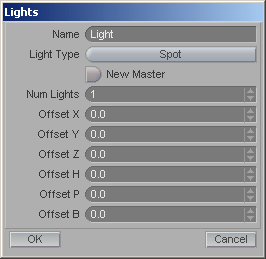 Name: Enter a base name for the lights. It will add _1, _2, etc. to subsequent lights.
Light Type: Choose which type of lights should be created. Of course you can change the light types later.
New Master: When this is off, the new lights will be assigned to the current Light Master. When it is on, it will create a new Light Master for the lights it creates. If there is no Light Master in the scene yet, it will create one even if this is off.
Num Lights: Enter the number of lights you want to create.
Offset X, Y, Z, H, P, B: Set the amount of offset on each position and rotation axis. This is very useful for creating arrays of lights.